Best WordPress Plugins for 2021 – We Did the Research for You
MonsterInsights is the best WordPress plugin for Google Analytics. You can use this plugin to connect your blog with Google Analytics in one click. It allows you to monitor your blog traffic and other important stats within your WordPress dashboard.
Why You Need It: Smart bloggers use analytics to understand their audience, get better blog post ideas, and make more money from their blogs. With actionable analytics, you can see what's working and make data-driven decisions to grow your blog.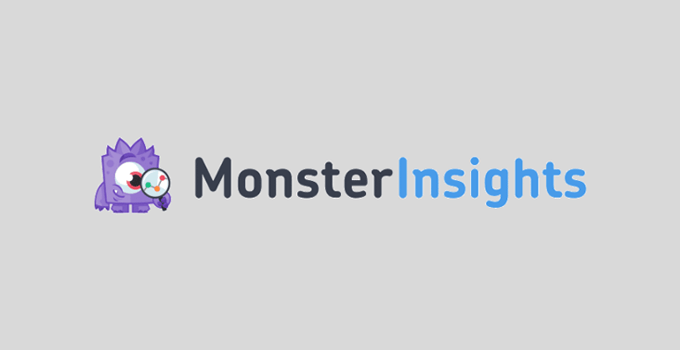 Check out some of the most important features of MonsterInsights WordPress Google Analytics plugin.
Real-time stats for blog traffic
"Most Popular" posts tracking
Ads tracking
Custom WordPress dashboard reports
Referral tracking
File download tracking
…and more
WPForms is the most beginner-friendly and the by far the best WordPress contact form plugin. It allows you to connect with your visitors by creating a simple contact form, survey form, conversational form, and other forms.
Why You Need It: As your blog grows, people are going to want to get in touch with you to talk about guest posting, display ads, partnerships, and other exciting opportunities. The last thing you want to do is share your email address on your blog, though, because your inbox will be filled with spam.
WPForms will help you quickly create a customized contact form that protects you from spammers. The free version will allow you to easily create a secure contact form, and there's also a paid version with tons of templates and advanced features to help you grow your blog.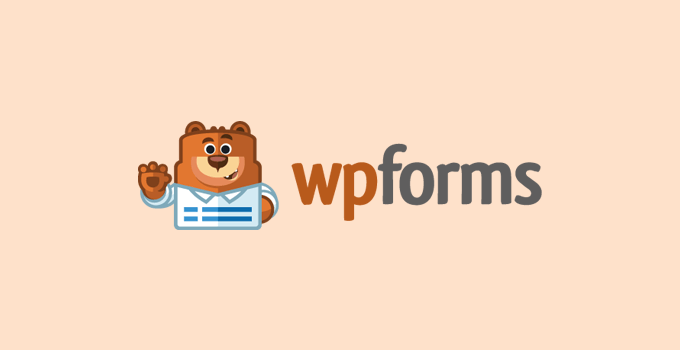 Let's take a look at the important features of WPForms WordPress contact form plugin.
Easy drag and drop form builder
Customizable form fields
Dozens of ready-made form templates
Integrates with popular email marketing services
Allows file uploads and blog post submissions in forms
Prevents spam through its anti-spam feature
Looks great on the frontend
OptinMonster is the best WordPress lead generation and conversion optimization plugin. It allows you to create beautiful optin forms to convert your abandoning blog visitors into subscribers.
Why You Need It: Did you know that on average, 70% of the people who visit your website will forget about it and never come back? That means that all the time, money, and effort you spent on getting that traffic is going to waste.
That's why it's so important to get those visitors to subscribe to your email list. And OptinMonster makes that easy with its beautiful popups, floating bars, and other campaigns.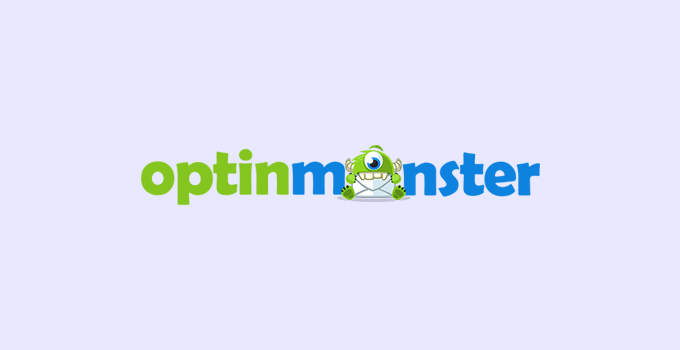 Check out these most important features of OptinMonster that you don't want to miss.
Drag and drop optin builder
Multiple campaign types for actionable marketing
Powerful Exit-Intent® technology
Seamless integrations with popular services
Detailed insights to improve your campaigns
SeedProd is the best WordPress landing page builder plugin. Bloggers can use this plugin to easily create beautiful landing pages. You can create sales pages, webinar landing pages, squeeze pages, coming soon pages, and more.
Why You Need It: Many bloggers struggle to increase their conversions. But landing pages are specifically designed to convert visitors into subscribers, leads, or sales.
Unlike your blog's homepage, which has lots of information on it, a landing page is focused on a specific campaign. For example, you can create a landing page to get more signups to your webinar. Because there's nothing else on the page to distract visitors, they're more likely to sign up.
So, whether you want to get more email subscribers or increase sales, you can do that by creating high-converting landing pages with SeedProd.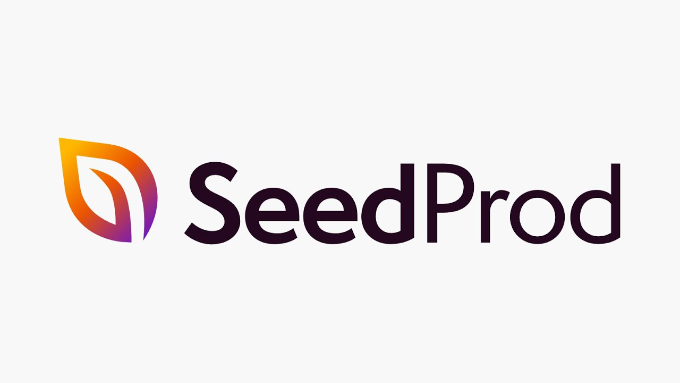 Here are a few powerful features of the SeedProd landing page builder plugin.
Drag and drop builder with live preview
Pre-designed landing page templates
Pre-made landing page blocks and smart sections
Built-in email autoresponder
Search engine optimized and mobile-friendly
Smash Balloon is a complete social feed plugin suite that lets you easily integrate various social media feeds to your WordPress site. It is the best social media plugin for WordPress in the market.
To generate user generated content from social media, they offer 4 different social feed plugins:
Why You Need It: Displaying user generated content on your website is one of the best ways to increase trust, conversions, and sales. Since the content is originally created by real users on social media, it increases the trust factor and establishes yourself as an authority in your niche.
With its seamless integration with various social platforms, you can easily display social feeds content, customer reviews, and more. All you have to do is authorize the plugin, insert the shortcode within your articles or widgets and display the content instantly.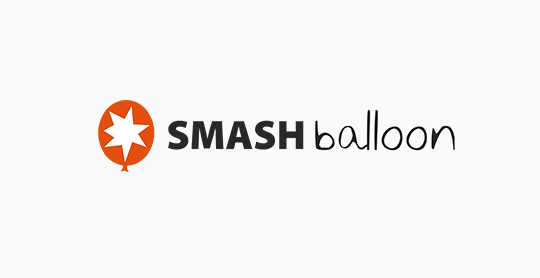 Take a look at the key features of Smash Balloon that you don't want to miss.
Easily integrate social feeds to your website
Customize the feed the way you want
Filter content by word or hashtag automatically
Social content is seamlessly blend in with your site content
Sucuri is the best WordPress security plugin. It protects your blog from malware threats, DDoS, and any type of attacks. We use it daily on our websites and blogs to avoid being hacked.
Why You Need It: You might think that a new blogger wouldn't be a target for hackers, but actually security is something every blogger needs to take care of. That's because hackers target all kinds of websites in order to install malicious software to distribute to all your visitors. There are even scams to steal your site access and lock it up until you pay a ransom to get it back!
To avoid any of that hassle, it's super important to use a reputable security plugin like Sucuri. That's why we use it on all our sites.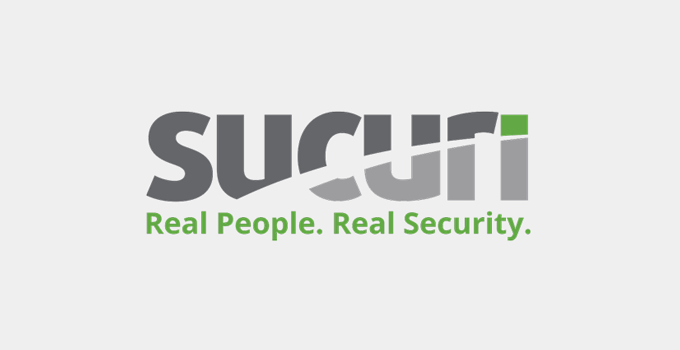 Take a look at the key features of Sucuri WordPress security plugin.
Powerful blog firewall protection
Effective security hardening
Automatically removes malware from your blog
Post-Hack security add-ons
Removes your blog from blacklists
Prevents brute force, DDos and XSS attacks
UpdraftPlus is a popular WordPress backup plugin. Before you take any major action on your blog like changing a theme, updating a plugin, or update WordPress core, it is recommended to create a complete backup. If anything goes wrong, you can restore the backup using UpdraftPlus right away.
Why You Need It: No matter how reliable your WordPress hosting is or how careful you are, there's always a chance something can go wrong. If the worst happens and you get hacked or your site goes down, you want to be prepared. Updraft makes it easy to instantly restore your site, just in case.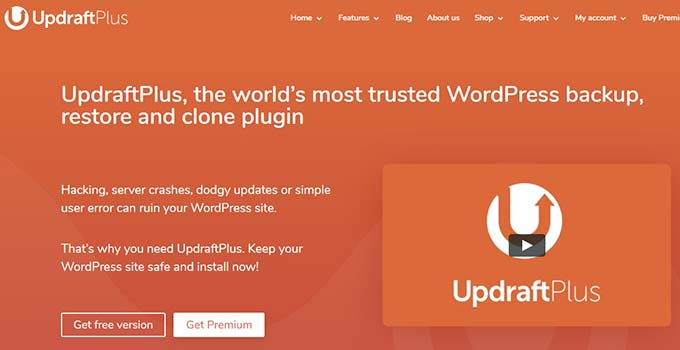 Here are some of the important features of UpdraftPlus WordPress backup plugin.
Manual and automated scheduled backups
Supports cloud backup to Amazon S3, DropBox, Google Drive etc.
Database backups are encrypted for security
Compatible with WordPress multi-site network
Creates complete backup logs
WP Rocket is the best WordPress caching plugin. You can use this plugin to boost the page load speed of your blog. It also comes with Imagify which is an advanced image optimization service.
Why You Need It: Did you know that according to WPBeginner, a 1 second delay in your WordPress website loading time can lead to 7% loss in conversions, 11% fewer page views, and 16% decrease in customer satisfaction? Plus, having a slow website can hurt your search engine rankings so you lose out on traffic.
That's why it's so important to make sure your website loads quickly. If it doesn't, you're missing out on a ton of traffic, subscribers, and sales.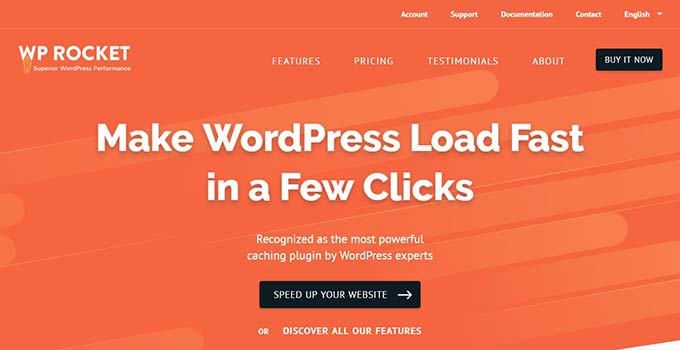 Take a look at these amazing features of WP Rocket WordPress caching plugin.
Easy and quick setup
Lazy loading images and content
Page and browser caching
Compatible with CloudFlare
Improves WordPress blog performance
Minifies your HTML, Javascript, CSS and feeds
Offers its own CDN service
All in One SEO (AIOSEO) is one of the best WordPress SEO plugin. It's an all in one plugin that you can use to improve your website search rankings and drive more traffic to your blog.
Why You Need It: Starting a blog can be easy but building an audience takes time and resources. You'll need to drive readers towards your blog and for that, you'll need to use a plugin like All in One SEO. This plugin attracts visitors from Google, Bing, and social media websites to boost your readership.
It helps you in writing content with proper keywords that ranks in the search engines. Plus, AIOSEO uses its TruSEO On-Page Analysis to provide you with an actionable checklist to optimize every post and page on your site. With your entire site optimized for SEO, you can unlock maximum traffic.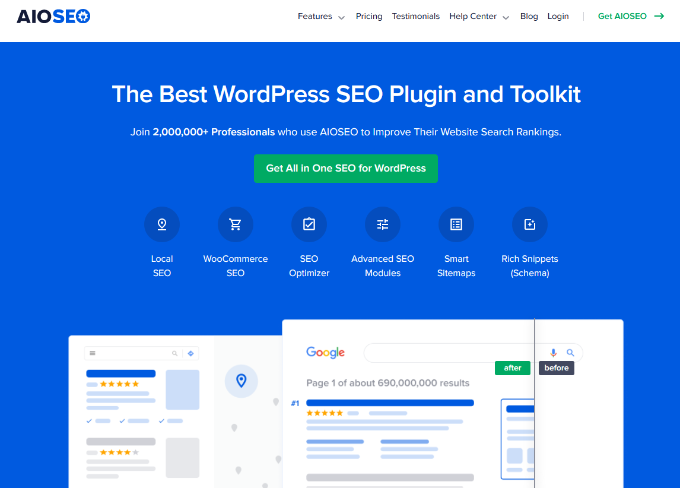 Let's see some of the important features of All in One SEO WordPress plugin.
Analyze your entire website with SEO audit checklist
Helps create smart XML sitemaps
Support for rich snippets schema
Tools to improve local SEO
Helps improve SEO for WooCommerce
Social media integration
Set SEO custom user roles
PushEngage is the best push notification plugin for WordPress on the market. This tool lets you send targeted push messages to users after they leave your website so you can drive traffic, boost engagement, and increase sales.
Why You Need It: If you want to encourage people to come back to your blog, you can use PushEngage to send personalized messages to users. These messages are sent straight to their web browsers or mobile devices, even if they're currently browsing on a different website.
You can set it up to send new blog post notifications, abandoned cart reminders, price drop alerts, and much more. Push notifications are a great way to stay connected with your readers after they leave your site.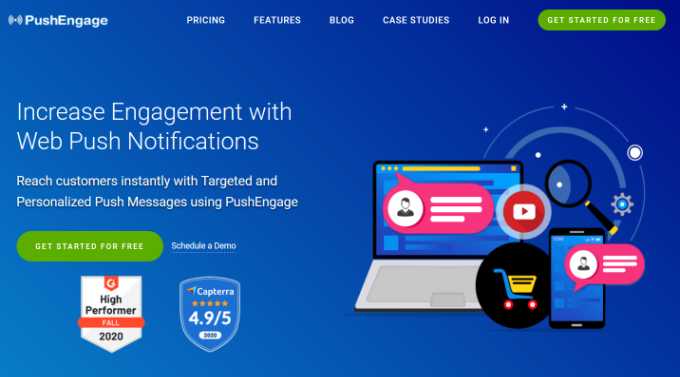 Check out these key features of PushEngage Web Push Notification plugin.
Create drip campaigns for a series of notifications
Trigger notifications based on visitors' action
Analytics to track performance
A/B testing
Smart opt-in reminders
MemberPress is the best WordPress membership plugin. It allows you to restrict visitors' access to specific pages, posts, and custom post types. It comes handy in managing your content perfectly. Also, when your blog grows, you can use this plugin to restrict access for guest authors.
Why You Need It: Do you want to turn your blog audience into an active community with forums? Maybe you're looking for a way to monetize your blog with premium content for subscribers only?
MemberPress is the easiest way to turn your blog into a membership site, with all the powerful features you need to grow your membership and make more money online.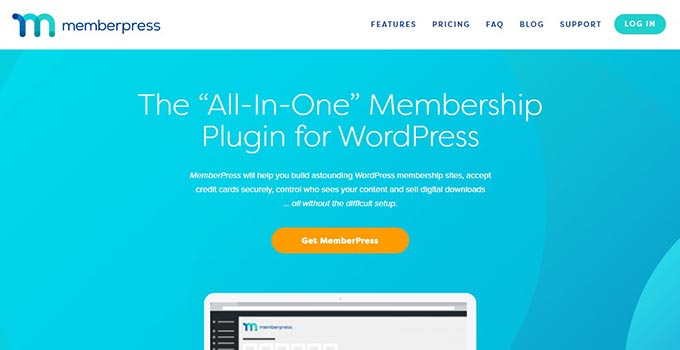 Let's see some of the most important features of MemberPress plugin
Powerful user access rules
Advanced reporting
Integrates a wide range of payment gateways like PayPal and Stripe
Compatible with popular WordPress plugins
Integrates with email marketing services like MailChimp, Drip, ConvertKit and etc.
WP Mail SMTP is a free WordPress email SMTP plugin. This free plugin helps reconfigure the wp_mail() PHP function to use the proper SMTP provider. In simpler words, it makes sure that your e-mail delivers to the intended recipient.
You can integrate it with the email subscription and marketing services to promote your blog.
Why You Need It: Have you ever had issues with WordPress not sending emails when someone fills out your contact form, or if you try to reset your password? That's because, by default, WordPress isn't set up for reliable email deliverability.
Luckily, you can easily fix that with WP Mail SMTP. And if you don't want to deal with the technical details of setting it up, you can get the premium version, WP Mail SMTP Pro, which includes white glove setup and amazing customer support.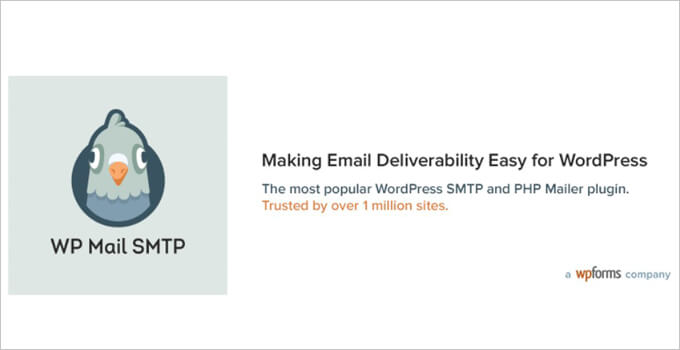 Take a look at these amazing features of WP Mail SMTP WordPress plugin
Fixes all WordPress not sending email issues
Send bulk emails easily
Send transactional emails
Ensures email delivery
Native integration with SMTP services like SendGrid and Gmail
Envira Gallery is an excellent WordPress image gallery plugin. It is beginner-friendly and easy to use. It allows you to create image galleries and photo albums on your WordPress blog instantly.
Why You Need It: Do you want to share a lot of images on your blog? If you're running a photography blog or other image-heavy site, all those photos can ruin your site's load time.
To boost your site speed and also display your images in a more beautiful way, there's no better plugin than Envira Gallery.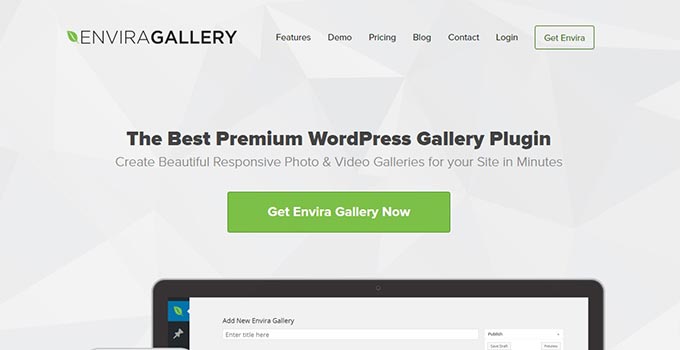 Here are a few important features of Envira Gallery WordPress image gallery plugin
Drag and drop image gallery builder
Dozens of pre-built gallery templates
Powerful and advanced add-ons
Supersizes lightbox images
Supports video galleries
Built-in lazy loading
Easy to add watermarking on images
If you want to make money online by selling products on your WordPress blog, then WooCommerce is the perfect plugin. You can use this plugin to create a highly customizable eCommerce store. It comes with free and paid extensions to boost the functionality of your blog.
Why You Need It: Want to make money blogging? Opening your own online store is a great way to do it. You can sell any products you want, including digital products like ebooks. You can also integrate WooCommerce with other plugins to set up a drop shipping store with WordPress.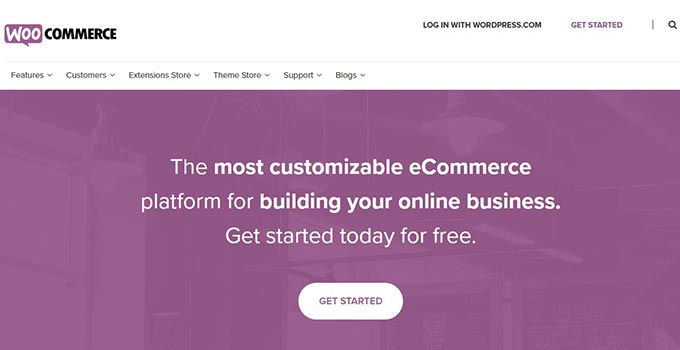 Take a look at these key features of WooCommerce WordPress eCommerce plugin
Works seamlessly with all WordPress themes
Allows affiliate products from other stores
Advanced shopping cart system
Secure payment integrations and tax options
Powerful customer management system
Compatible with WPML for translations
TrustPulse is the best WordPress social proof plugin. It showcases real-time activity of the blog to your new visitors. You can also redirect users to landing pages from the TrustPulse social proof notifications.
Why You Need It: Did you know that 60% of consumers said they made a purchase after experiencing Fear Of Missing Out (FOMO)? Adding social proof notifications has been shown to increase conversions by up to 15%.
That means that adding TrustPulse to your site can instantly boost your email signups or sales – and you can get started for free.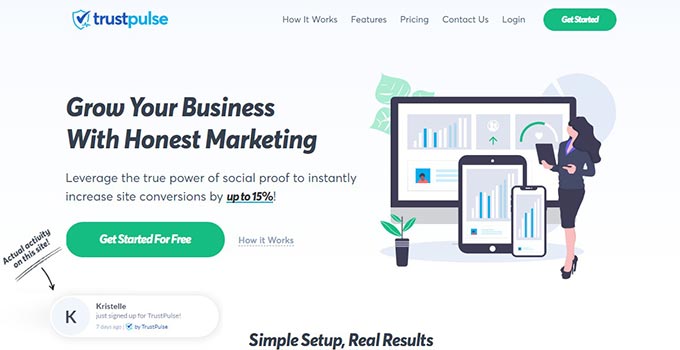 Let's take a look at some of the important features of TrustPulse WordPress social proof plugin
Real-time event tracking
Shows how many people are taking action on your blog
Flexible design options
Advanced targeting rules
Track and measure insights
RafflePress is the best WordPress plugin for giveaways. It allows you to set up viral giveaways on your blog to increase traffic, get social media followers, and build your email list.
Why You Need It: Running a viral giveaway on your blog is a powerful tactic to boost your traffic and grow your email list. But managing the logistics of a giveaway contest can be a huge challenge.
Enter RafflePress. It's a user-friendly plugin that asks your visitors to earn entries by following your social pages like Facebook, Twitter, Instagram, etc.
Best of all, there's a 100% free version of RafflePress on WordPress.org!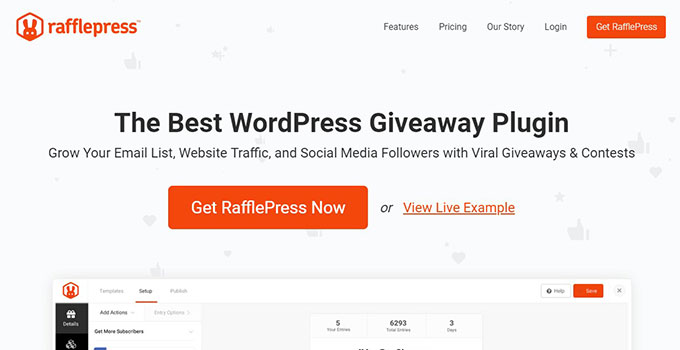 Here are some of the amazing features of RafflePress WordPress giveaway plugin
Drag and drop giveaway builder
Pre-built giveaway templates
Powerful social media integrations
Highly optimized giveaway landing page
Advanced tracking and retargetting
Grammarly is a simple browser extension that works great with a WordPress blog. It allows you to improve your content by avoiding small grammatical and spelling mistakes that you could miss unintentionally while writing blog posts.
Why You Need It: As a blogger, you wear a lot of hats – designer, writer, editor, proofreader, publisher, and more! It's tough to catch every little spelling and grammar mistake when it all depends on you alone.
That's why it's smart to use a tool like Grammarly to double check your work. Leaving those mistakes on your blog can give an unprofessional impression to your readers and hurt your brand.
Check out the key features of Grammarly
Works seamlessly with WordPress
Corrects the punctuation in sentences
Fixes spelling mistakes
Browser extensions to work with all apps
Suggests better adjectives
Affiliate Royale is the best WordPress affiliate marketing plugin. It allows you to add affiliate links in your articles, so you can earn commission by recommending third-party products and services on your WordPress blog.
Why You Need It: If you want to make money from your blog, getting started with affiliate marketing is an easy way to do it. But to effectively manage and track your links, you'll definitely need a plugin like Affiliate Royale.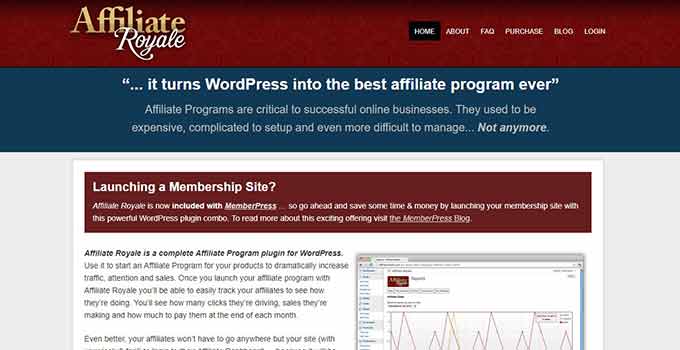 Here are a few important features of Affiliate Royale WordPress affiliate marketing plugin
Monitors affiliate clicks, sales, and payments
Integrates payment methods
Works great with popular WordPress services
CSS Hero is an amazing WordPress plugin to customize your blog theme. It gives you the control to style your layout with point and click interface. You don't need to edit any code, yet you can customize each element on your WordPress blog.
Why You Need It: If you don't know any code, it can be hard to customize the design details of your site. What if you found a WordPress theme you love, but just want to change the colors or fonts to make it your own?
CSS Hero makes that easy with just a few clicks – no need to learn any code.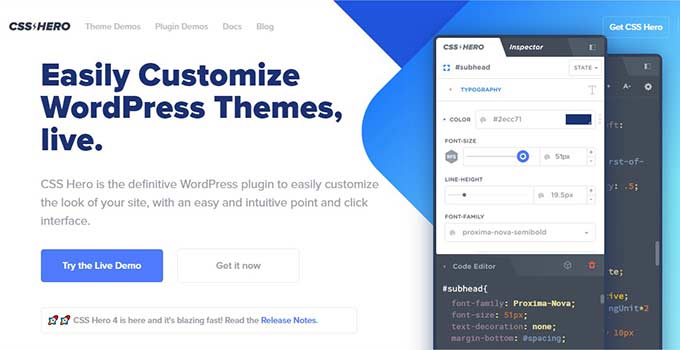 Take a look at the important features of CSS Hero WordPress theme customization plugin
Real-time customization
Color management
Ready-made snippets
Keeps the history of changes
CSS code editor for developers
Shared Counts is a free WordPress plugin to add social network buttons to your blog. It allows your users to share articles on social media easily. This plugin helps in increasing traffic and engagement on your WordPress blog.
Why You Need It: Social media is one of the best ways to build your blog traffic and keep people coming back for more. If you want to go viral and grow your audience, you'll need a plugin like Shared Counts to encourage your visitors to share your blog posts on social media.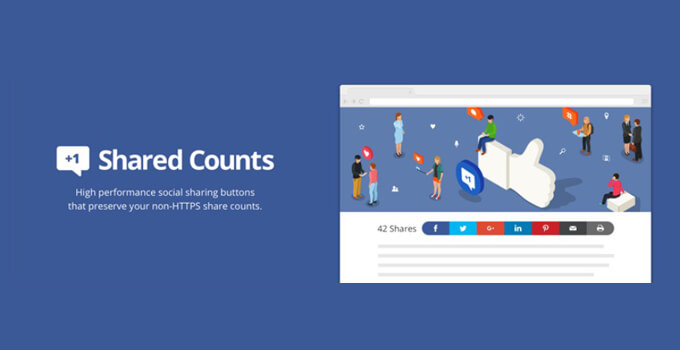 Check out these key features of the Shared Counts WordPress social share plugin
Share count total for all social networks
Twitter Tweet button using a third-party app
Email sharing with reCAPTCHA support
Print button
Track the engagement on social networks
AdSanity is the best WordPress ad management plugin. It allows you to display and manage ads on your blog professionally. You can extend the functionality using their basic add-ons.
Why You Need It: Putting ads on your blog is a really easy way to start making money from your content, but using a network like Google Adsense doesn't give you much control. With AdSanity you can take control into your own hands and make more money with ads.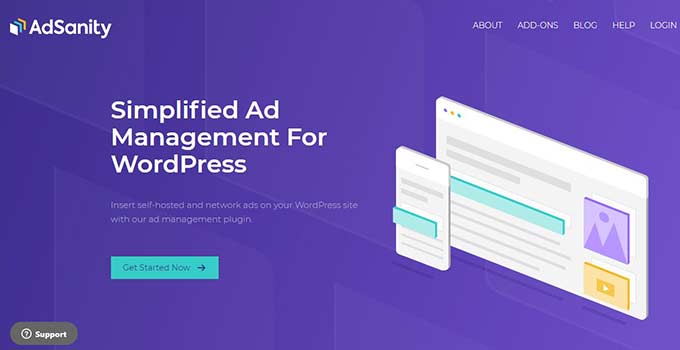 Take a look at the most important features of AdSanity WordPress ad management plugin
Infinite or date-based publishing options
Graphical stats to improve your ads
Doesn't effect the page load time
Comes as a widget, shortcode, and template tag
Pretty Links is a popular URL shortener and link cloaking plugin for WordPress blogs. It allows you to shorten and customize URLs for your blog links. You can share these links on emails and social media.
Why You Need It: Have you ever tried to share a really long link on social media, in an email, or on printed material like a business card? It doesn't look good, and it doesn't make it easy for your visitors.
With Pretty Links, you can easily create short links that are more memorable and professional. It's truly a must-have marketing tool.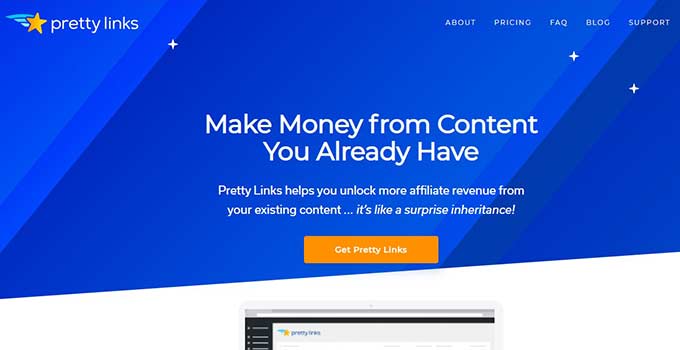 Let's check out the key features of Pretty Links WordPress URL shortener plugin.
Affiliate link cloaker
Shareable links for emails and podcasts
Custom short URLs
Uncanny Automator is a simple yet powerful WordPress automation plugin. This WordPress plugin helps you automate various WordPress admin tasks so that you can save time and money.
Why You Need It: There's a lot to manage behind-the-scenes when running a blog. Instead of spending so much time on routine WordPress tasks, you can have Uncanny Automator handle it for you.
You can connect your existing WordPress plugins together easily and create automation "recipes." For example, when a user submits a form, you can automatically enroll them in your course, then create a calendar event for it. Instead of performing these tasks manually, Uncanny Automator helps your plugins talk to each other so that your site runs on autopilot.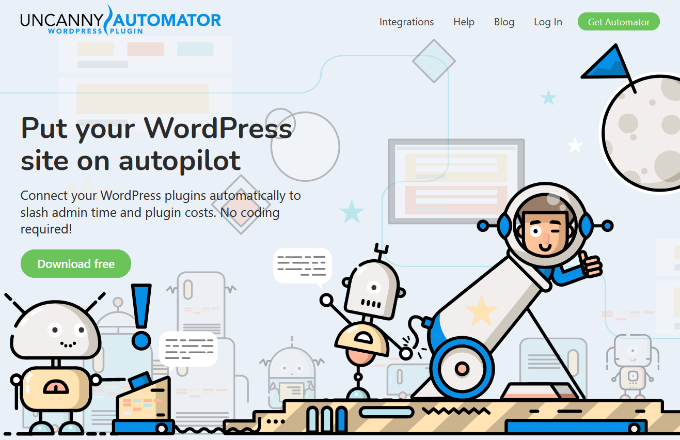 Take a look at these key features of Uncanny Automator plugin.
Integrates with 50+ popular WordPress plugins
Connect to over 2,000 apps
Easy-to-use editor to create recipes in just a few clicks
Set up buttons that can trigger any recipe on click